Cherry.tv is a fairly new cam site (2021) that brings together thousands of live camgirls, all for free. Some innovations compared to other sites of cams, means of depositing which are numerous, in short, here we will make the turn of Cherry.Tv and give you our best advice before launching you.
| | |
| --- | --- |
| 💎 Site | Cherry.tv |
| ⭐ Note | 5/5 |
| 📅 Date | 2021 |
| 📙 Languages | English |
🍒 Token price



As stated in the introduction, registration on Cherry is completely free. You can watch a live stream without paying anything and chat in the chat room.
However, most camgirls do a free show at first to attract people, and then make a private show that will be paid.
There is also the possibility of make donations in exchange for a position or activate a connected sextoy. Again, all this is optional, but the girls on this site live from this activity for the most part, so it's up to you to reward them appropriately.
You can buy tokens, the site's currency, easily.
Click on the "GET TOKENS" button once registered on Cherry tv. You can pay by credit card, epoch, bank transfer or cryptocurrency.
The more tokens you buy, the more free tokens you get. For example, the pack 1150 tokens (1000 + 150 free) costs you 99.99$ or 0.08$ per token.
The smallest pack costs only 10$. You can donate to any camgirl from 1 token. The price for a private show is defined by the model, so it can vary from a dozen tokens to several hundred.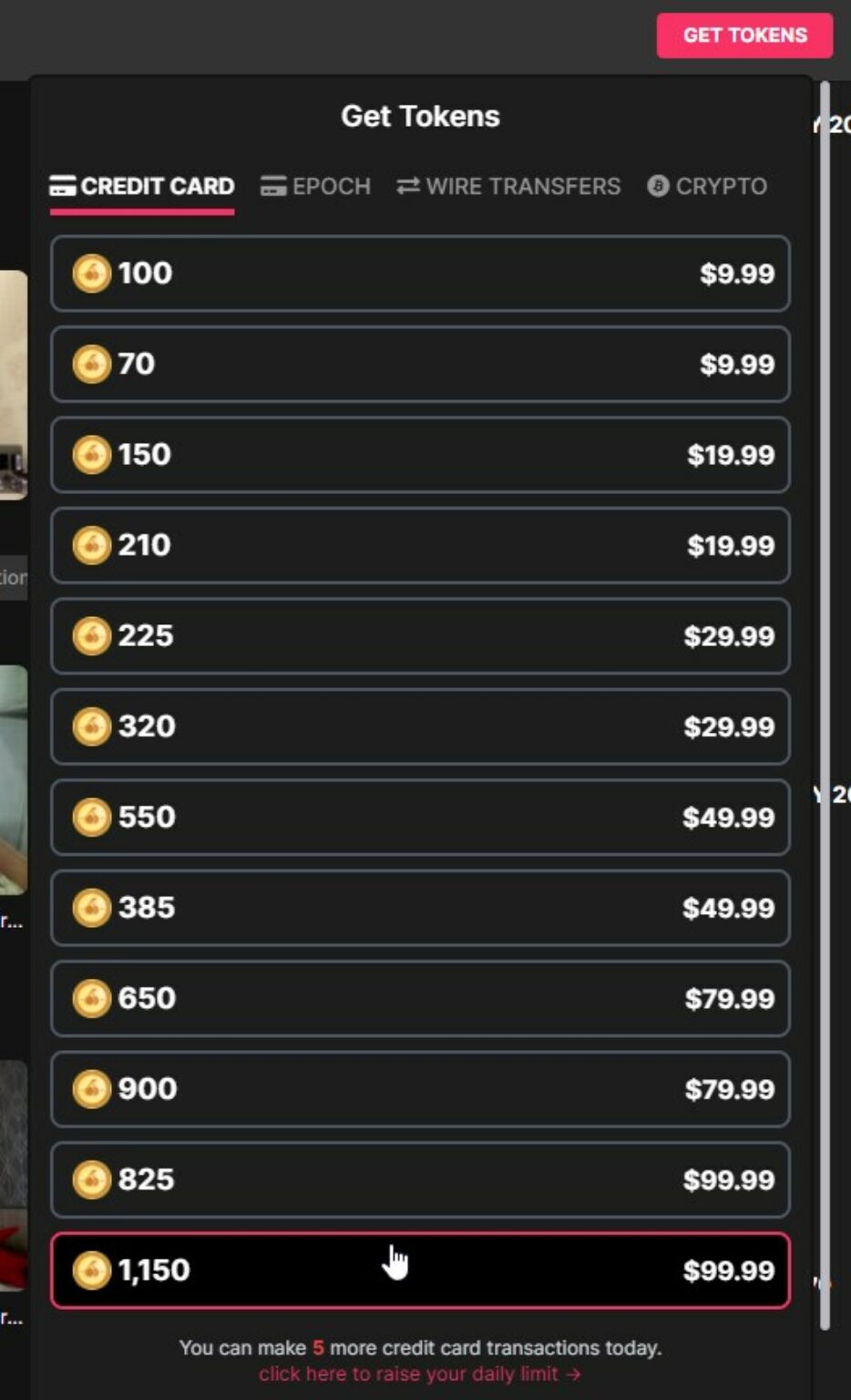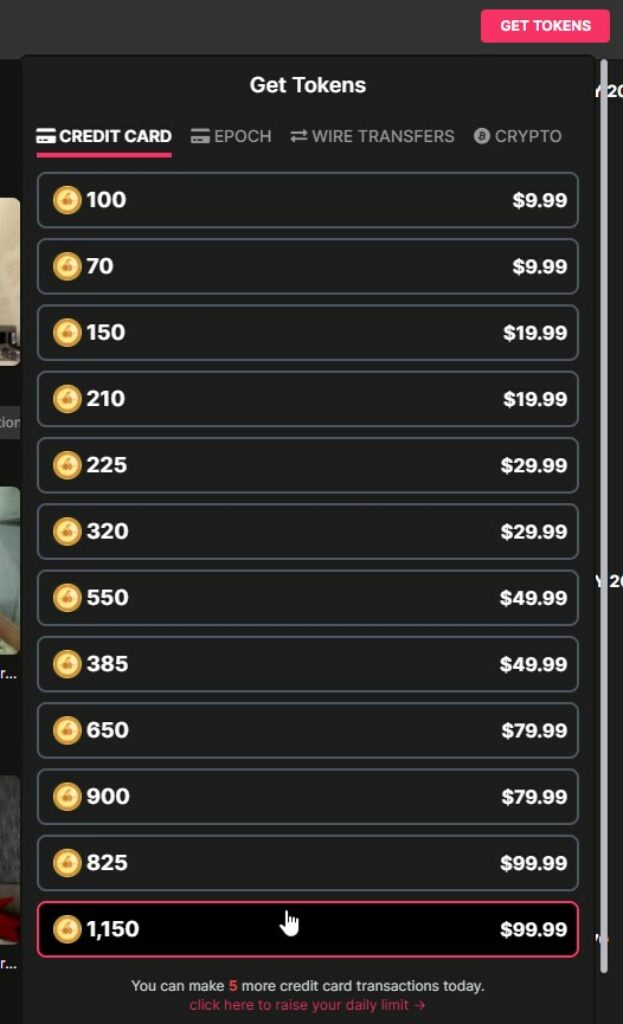 🍒 How do I log in (register) to Cherry TV?



Registration on Cherry TV is free and takes only a few seconds. Obviously, this is an adult site, totally forbidden for minors!
All you have to do is fill in a username and a valid email address. Cherry will send you an email with your temporary password.
Once logged in, you will be prompted to change this password. Now that you're registered at Cherry, you can make your first deposit as described above or discover the camgirls on the site.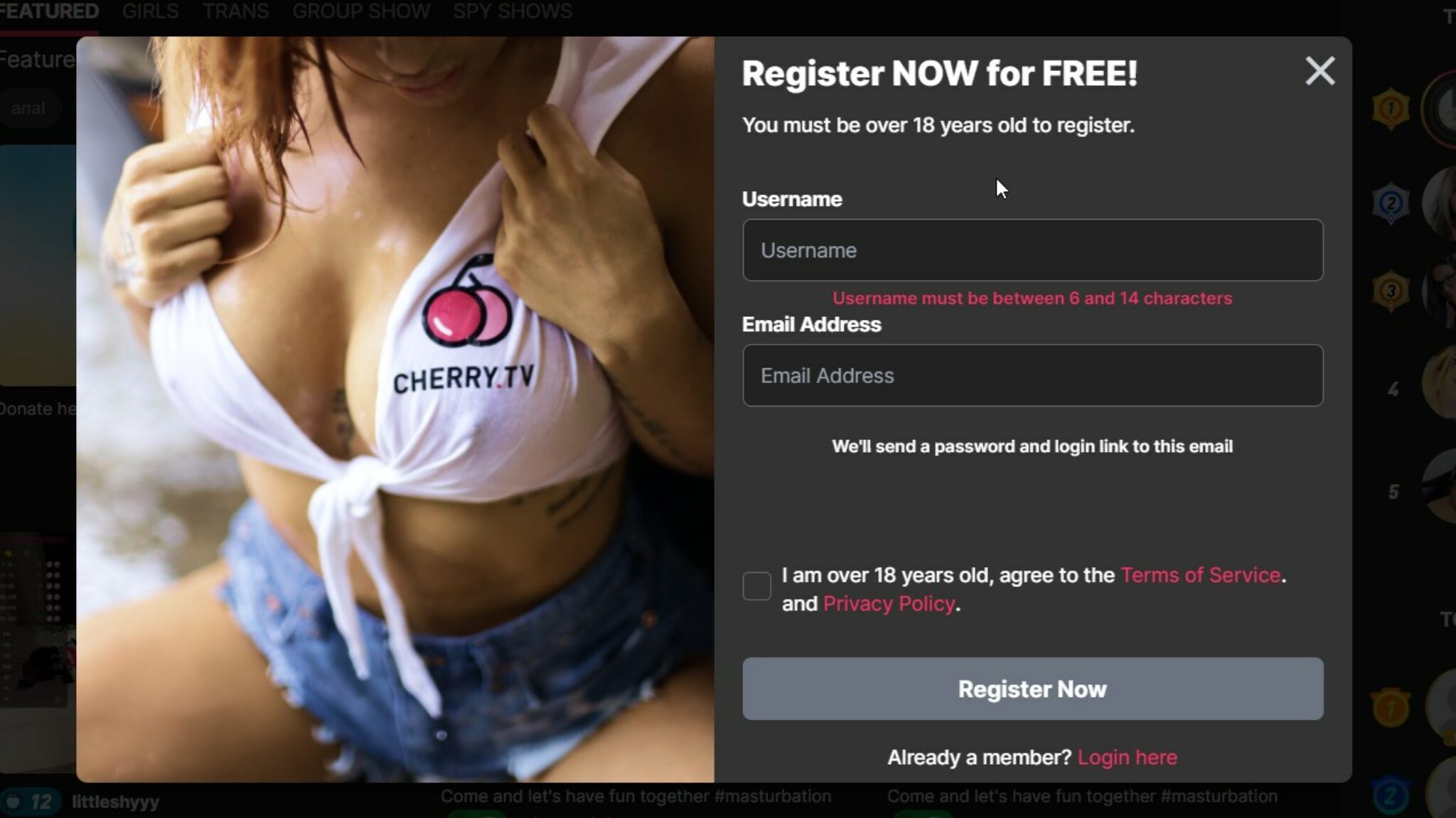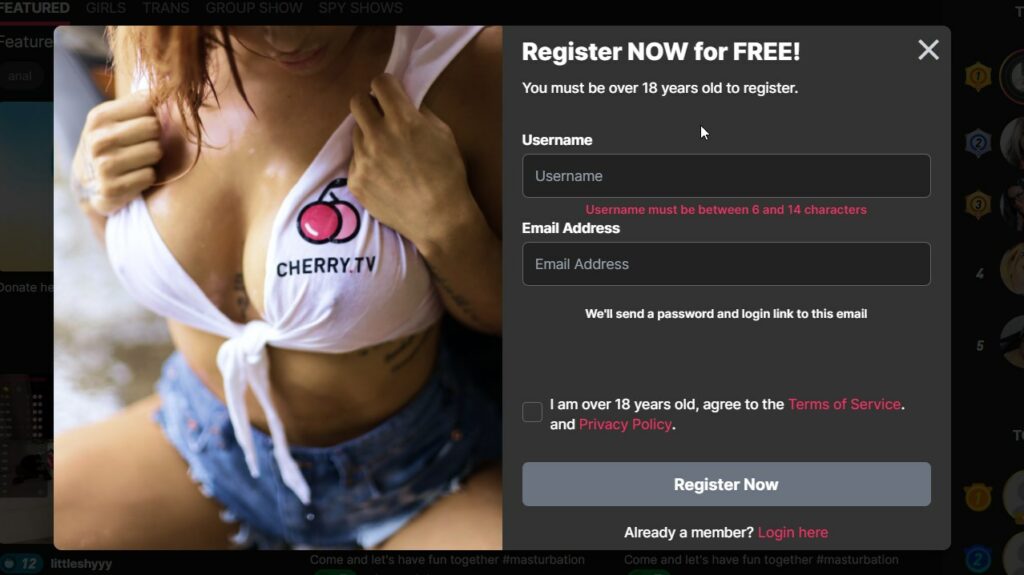 🍒 How does Cherry.tv work?



👉 Find a camgirl
Once registered on Cherry.TV you had to choose the camgirl of your choice.
You can choose between several categories. The first choice is by gender: female, trans or couple. There are no men on Cherry.tv, if you are looking for a gay cam site, choose Cameraboys.
Once the category is selected, you can refine your search to go deeper (no pun intended) and choose the type of action proposed, for example: anal, white, tattoo, mature, PAWG, BDSM, young, sock, connected sextoy, latina, foot fetish etc.
The site lacks a bit of choice in camgirls, mainly because it is recent. The problem will be solved with time and the arrival of new models on cherry tv.
There is a "recommended" part to find a camgirl according to your tastes. The site adapts to your latest searches.
On the right side of the homepage, you will find the most viewed camgirls of the month and the viewers who donated the most.


👉 Features on Cherry.tv
When you are on a template page, you have several choices.
In the middle, it is the camgirl. On the right you have an online chat, to chat with her or with the other viewers. You can see the number of viewers and the live time below the stream.
Then comes the interesting part. You can read the description, the language, the origin, the age below the live.
You can make your requests in the chat, but the camgirl will not accept to do it for free, for that you will have to make a donation.
You have different items that have a value in tokens. You can ask for one of your fantasies in exchange for some tokens.


Most of the girls on this site have a connected sex toy. The more you donate, the more it will be activated. Perfect to excite her remotely with your tokens. You can click on "Turn Me On" at the top of the chat to see the intensity and the different levels available. You also have the price of the available actions.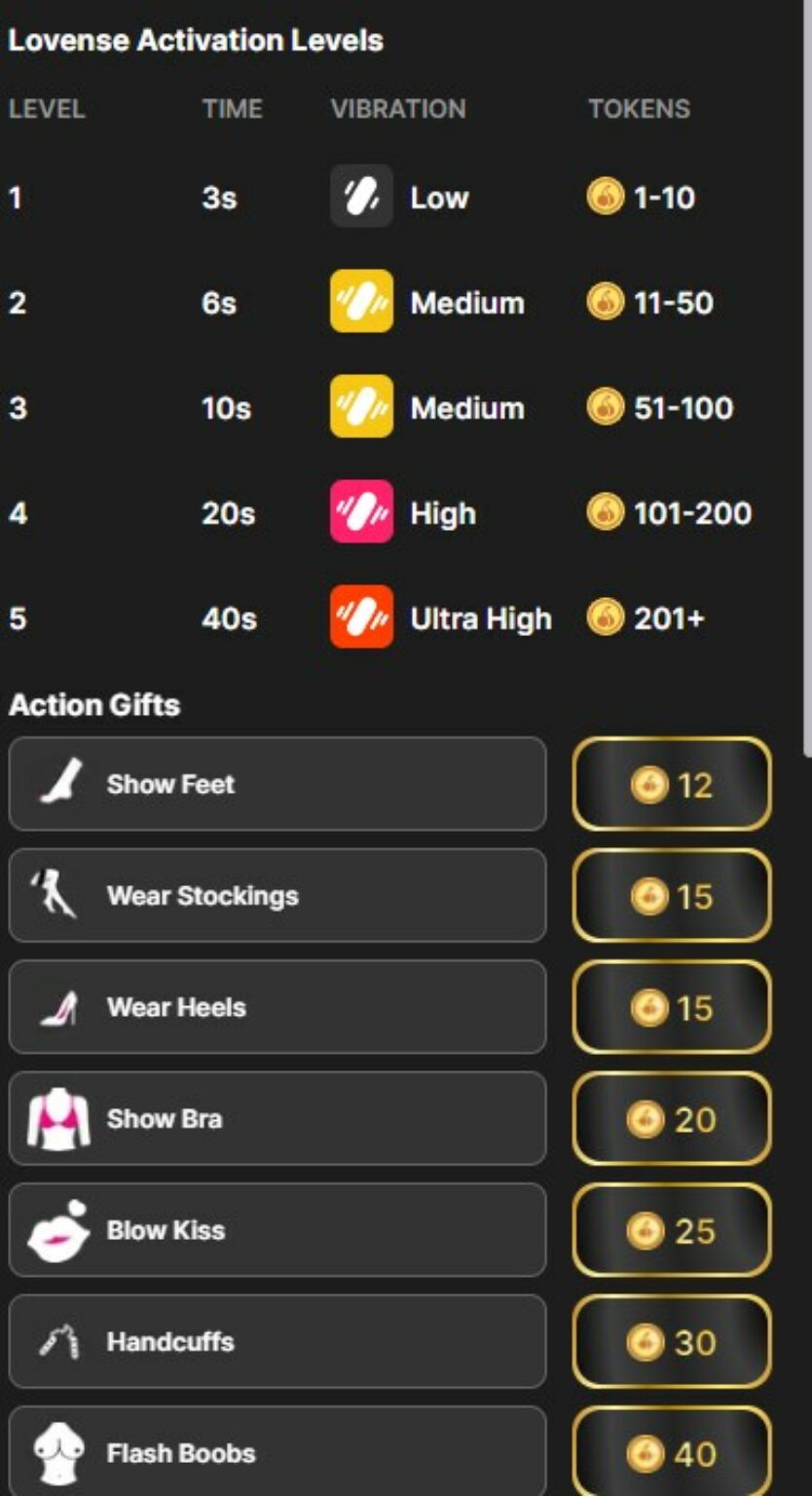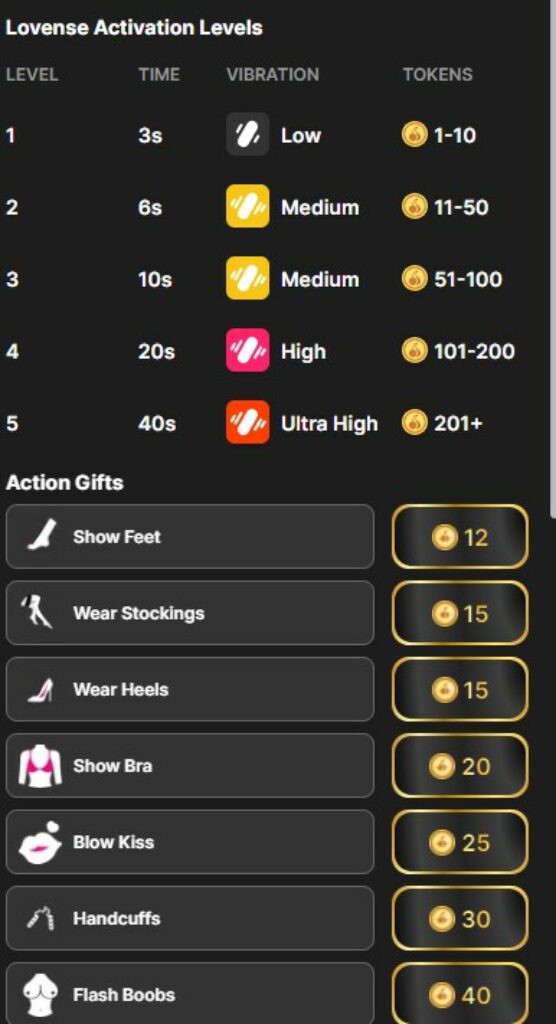 If you click on "Private", you can request a private show in 1:1. You will have to pay at the limit, in our case, you will have to spend 40 tokens per minute.
If the price for a private show is too expensive, you can also see the show as a group to split the price.
Click on "Group" and ask other spectators to join you. Once 6 people are ready to pay, you can enjoy the show in a small group and make any request you want.
🍒

Become a Model on Cherry TV
You can become a camgirl on Cherry TV easily. To do so, you will need to register on the model part of the site by clicking on "Become a model".
We made a complete guide to starting out as a camgirlYou'll see, nothing too complicated. A camera, a small community on social networks and you can already make several hundred euros per month.
In terms of revenue distribution, the site takes an average of 35% on donations, which is quite low compared to other cam sex sites.
There are events and a ranking to help you get discovered. Cherry TV takes care of its new models by putting you in the spotlight via advertisements. The support will be there 24 hours a day to answer your requests. Cherry also takes care of your privacy and your lives will not be republished on other sites.


🍒

Is Cherry.tv a scam?



So, is Cherry TV a scam? The answer is no, you are safe on this site. If you are on the official website of Cherry.tv.
The site is operated by CSME Technology, based in Claymont, USA, and already has more than a dozen employees.
You can register safely on Cherry TV, whether as a camgirl, your earnings will be paid or as a visitor, your bank details are safe.
The site generates more than 4 million visitors each month.
As usual when you are online, make sure you are logging in to the right site and do not follow any links in emails if you want to make sure your account remains completely secure.


🍒 Cherry TV Mobile (iOS and Android)



You won't find a Cherry TV app on either Android or IOS. The site is fully adapted for mobile and can also be used on tablet and PC. You will find the same functionality on all platforms.
🍒 Contact Cherry.tv



If you have any problem with the site, with a token deposit or even to report a user who would go too far, you can do so by contacting the support.
To do this, you must send an email to [email protected] and the after-sales service will respond within 24 to 48 hours.
If your question is more or less common, you can also read in the FAQ to find answers to the most basic questions.
Finally, if your image is used without your consent on this site, you will have to send an email to [email protected] which will remove the content and ban the person.


🍒 F.A.Q
Is Cherry.tv free?
Yes the registration is totally free. You can watch the camgirls without paying anything. However, if you want to access the private shows or request an action, you will have to pay in tokens.
How much do tokens cost on this site?
Prices vary depending on the pack, it will take an average of 1$ for 10 tokens.
🍒
Conclusion
To conclude, we can say that Cherry TV is an excellent cam site. Although very recent, the navigation is very well done and the camgirls are numerous. Registration is free, but I advise you to put some money on your account to ask for shares, otherwise you depend on other users of the site.