MyFreeCams is a market leading cam site with lots of traffic and unique featuresYou can watch hundreds of women fingering themselves live. Perfect for jerking off and watching live amateurs and pornstars.
Devenir camgirl sur MyFreeCams est facile. La seule condition est d'avoir dix-huit ans ou plus et d'avoir tout l'équipement nécessaire. Le processus d'enregistrement est rapide et facile, et vous pouvez diffuser en un rien de temps. En plus de gagner de l'argent en camming, les modèles MyFreeCams peuvent également gagner de l'argent en vendant leurs galeries et vidéos. Voici tout ce que vous devez savoir sur MyFreeCams.
Vous pouvez avoir des tokens offerts en passant par notre lien pour vous inscrire.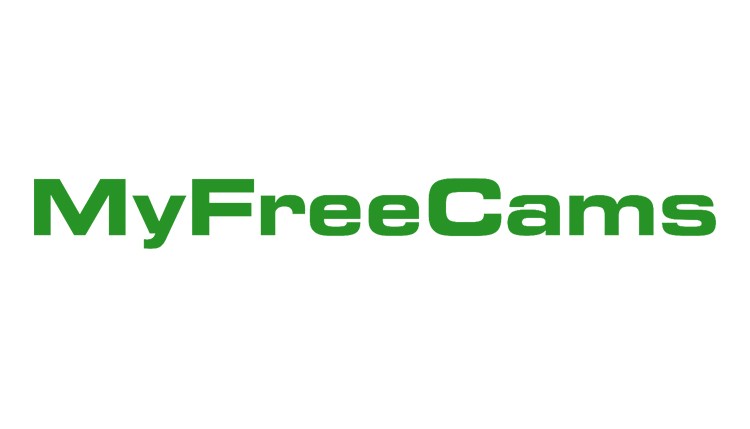 How much do tokens cost on MyFreeCams?
MyFreeCams offers to make donations to the camgirls. For that you will have to buy tokens, the currency of the site.
To buy tokens, it is done via credit card. Here are the prices applied:
200 tokens : 19.99$ (about 16.15€).
500 tokens : 49.99$ (about 40.38€).
900 tokens : 74.99$ (about 60.57€).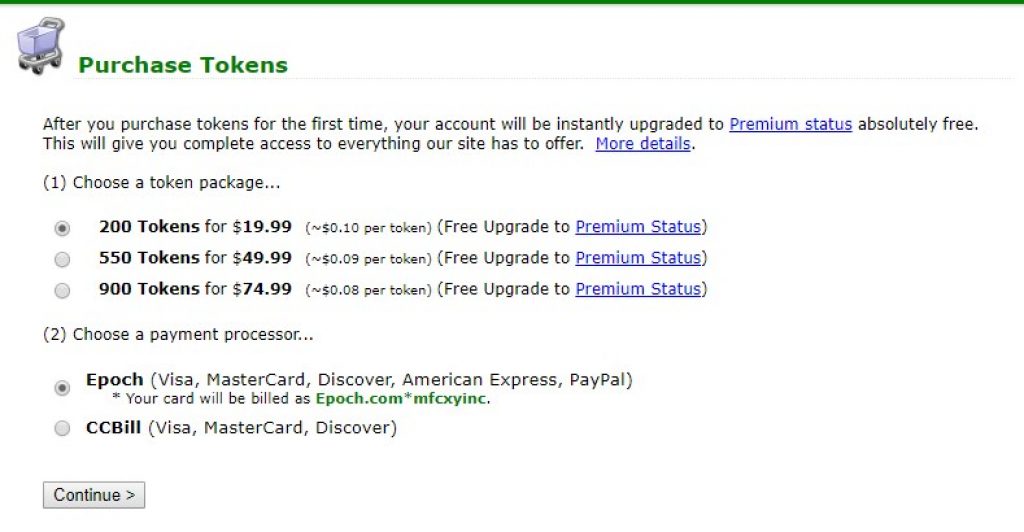 Quick Information :
Services : LiveCam, selling content
Genres Female
Types display: Public / Private / Group / spy
Geoblocking Yes
Percentage .05 / Token (50%-63%)
Minimum payment : $10-$20
Payment Schedule : 1st and 16th
ChargeBacks : ChargeBacks covered
Methods of payment : Direct Deposit, wire transfer, cheque, FirstChoicePay, Paxum
What is required to become a MyFreeCams model?
Pour commencer à utiliser MyFreeCams, vous devez être âgé de 18 ans ou plus. Vous devrez fournir une copie numérique d'une pièce d'identité avec photo au moment de l'inscription au site. Ceci est à des fins de vérification de l'âge seulement, et c'est quelque chose que tous les sites pour adultes doivent faire pour rester conformes aux lois.
Vos renseignements personnels sont toujours gardés confidentiels et sécurisés. MyFreeCams only accepts female modelsNo man should ever be on camera.
You will need a computer, a webcam (HD with a good microphone is highly recommander), d'Internet haute vitesse et d'un endroit pour filmer. Il est utile d'avoir une collection de jouets et de tenues.
Si vous avez l'intention de présenter certains types de spectacles, ou de répondre à certains types de fétiches, il pourrait y avoir des articles supplémentaires nécessaires.
How much money do MyFreeCams Models earn?
MyFreeCams pays its Models five cents for each token. This percentage varies from 50 % to 63.13 %, depending on the token package purchased by the customer. Regardless of the token package purchased, the Model will always receive five cents for each token received.
Combien une camgirl peut faire varie considérablement. Le potentiel de revenu est important, mais il n'y a pas de revenu « horaire » ni de revenu garanti. Vous en retirez autant que vous y mettez. Il y a aussi des tonnes de facteurs qui entrent dans la rémunération d'un modèle.
Certains facteurs incluent : le temps passé sur la caméra, la personnalité, la qualité des spectacles, les fétiches, l'attractivité, la base de fans/clients, l'autopromotion, et beaucoup d'autres facteurs.
How and when are MFC models paid for?
MyFreeCams models are paid on the 1st and 16th of each month, with payments corresponding to the revenue generated by the previous 15 days.
The methods of payment and are :
Direct Deposit
Bank transfer
Cheque sent by post
PremierChoicePay
Paxum
The minimum payment is 10 $ for Paxum and 20 $ for all other payment methods.
Type of show on MyFreeCams
Models can be paid from several different types of shows. All shows can be entered in the "Public" or "Private" category. Here are the different shows you can get paid for playing on MyFreeCams :
Public - There are many ways to do public shows, you can use a tip menu, play tip games or work towards a tip goal.
True Private - True Private" means that other members cannot "spy" on the show. True Private shows have a higher rate than private shows that can be spied on.
Spy / Voyeur - During a private show with a client, other clients can pay to access the show. Those who spy on a show cannot chat or interact, but get all the audio and video.
Group show - A group show is like a private show, but other members can join at any time. In a group show, each participant pays by the minute, but at a very reduced price. It takes at least three customers to start a group show, but others can join.
Privacy Protection: Geoblocking
Le respect de la vie privée est important pour tous les modèles. Le géoblocage régional est l'un des moyens d'empêcher les gens que vous connaissez de vous voir en ligne. Le géoblocage vous permet de bloquer une région spécifique. Pour les modèles USA, vous pouvez bloquer des états spécifiques.
Il est recommandé de bloquer les états dans lesquels vous résidez actuellement ou avez vécu auparavant. Les modèles peuvent également bloquer des pays entiers comme la france.
Customizable profile pages
MyFreeCams propose des pages de profil hautement personnalisables. Avec la plupart des sites de camming, les profils sont très standardisés, et vous n'avez de contrôle que sur la bio, en remplissant les informations de base et les liens des médias sociaux. Avec MyFreeCams, vous avez le contrôle total !
Il y a même quelques programmes tiers très pratiques qui peuvent vous aider à créer le profil le plus impressionnant qui soit.
Sell adult videos and image galleries on MFC Share
In addition to making money from camming, MyFreeCams models are able to sell photo galleries and clips on MFC Share. MFC Share est une plate-forme de contenu développée par MyFreeCams.
MFC Share peut être utilisé à des fins promotionnelles (contenu teaser gratuit) ou comme source de revenus (contenu premium). Bien que MyFreeCams n'autorise pas les hommes à utiliser une webcam, les modèles peuvent vendre leur contenu garçon/fille sur MFC Share (avec restrictions).
Vous pouvez également utiliser votre profil de plusieurs façons pour promouvoir le contenu disponible sur MFC Share.
CamYou (formerly Cammunity): The site of Camming SFW
En plus de MyFreeCams, les camgirls peuvent aussi streamer via CamYou (anciennement Cammunity). CamYou est une version « Safe-For-Work » de MyFreeCams. Il n'y a pas de nudité ou de stream sur-sexualisés permis sur CamYou. CamYou est génial pour plusieurs raisons.
D'une part, il vous permet d'accéder à plus de sources de trafic SFW, comme Facebook ou YouTube. Vous n'avez pas à être aussi inquiet de partager des liens, car il n'y a rien d'aussi sexuel sur le site. Les tips CamYou comptent aussi pour votre CamScore, mais pas le temps passé sur le site. Le CamScore est très important et expliqué ci-dessous.
The CamScore and the bonus of the new model
The "CamScore" is the score given to models to rank them on the site. The higher the model's CamScore, the better the ranking. The CamScore is calculated by : Amount of money you earn ÷ Time spent on the siteSo if you make a lot of money in a short period of time, the CamScore is more likely to go up. If you spend a lot of time on the site but don't make money, the CamScore is more likely to go down.
The brand new models get a bonus CamScore of 1,000. MyFreeCams says that the average CamScore is around 600. This means that you will start by ranking higher than the average camgirl on MyFreeCams. You should use this to your advantage and try to attract the attention of as many customers as possible, as a customer base is very important for every camgirl.
MFC share tokens count for CamScore, without taking time on the site.Therefore, it's a good strategy to be active on Share MFC. Not only will it increase your revenue from content sales, but it will also help you rank higher on the main MyFreeCams site.
Chips earned on CamYou also count towards the CamScore, but time spent on CamYou does not count towards the CamScore. does not count negatively for CamScoreTherefore, CamYou is another way for models to improve their CamScore and rank higher on the main MyFreeCams site.
The MyFreeCams "Bring a Friend" Program
En plus de gagner de l'argent en utilisant MyFreeCams, les modèles peuvent profiter de deux programmes de parrainage différents sur MyFreeCams. Il y a le programme « Amenez un ami », où les modèles peuvent obtenir 10 jetons lorsqu'une personne qu'ils recommandent s'inscrit, et 100 jetons supplémentaires lorsqu'ils font un achat.
Soyez conscient : MyFreeCams déclare que le programme n'est pas officiellement pris en charge, qu'il peut contenir des défauts et qu'il est « pour le plaisir et pour ne pas être pris trop au sérieux ».
Ready to get started? Sign up for MyFreeCams!
Ready to get started as a MyFreeCams camgirl? Sign up today! The sign up process is quick and easy, and you can get started in no time. Earn money by working from home, during the hours you want, doing the type of show you want to do. Join one of the most popular camming sites, and earn money with content sold on MFC Share.
Don't forget to leave your opinion as a comment with a rating and what you think about MyFreeCams. Thanks to this review, you can help many users!